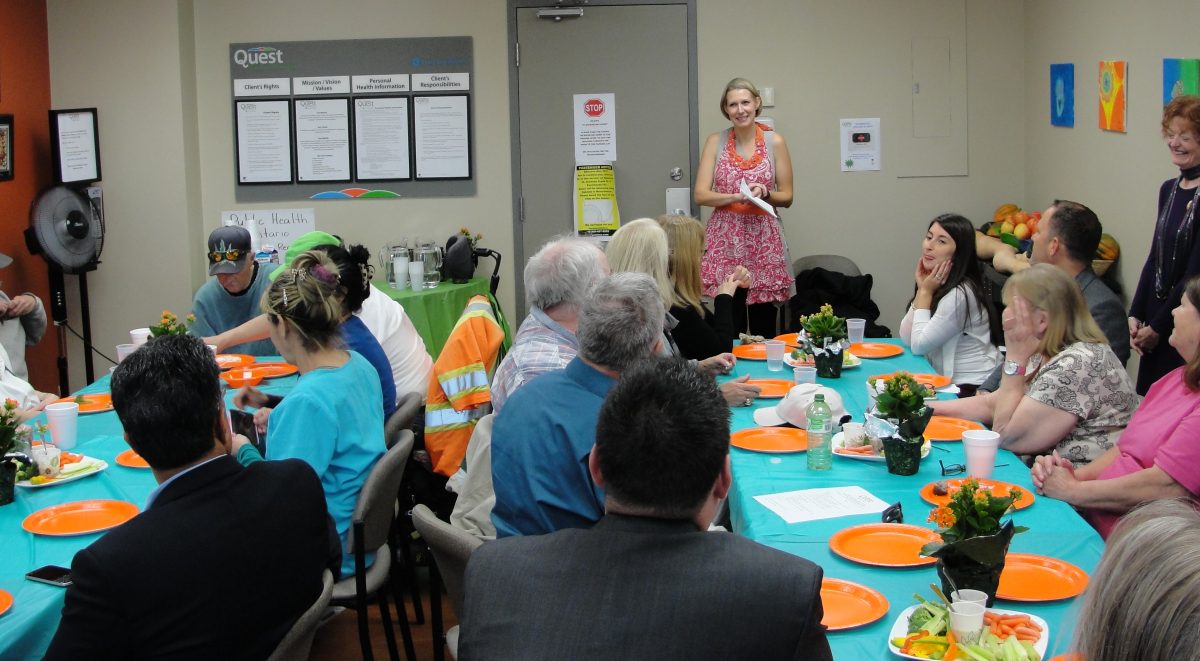 Quest CHC celebrated our annual Community Health and Wellbeing Week between October 16th and 20th. This year's theme was Health Equity at the Centre. The week emphasized the need to place health equity at the centre of decision and policy making in Ontario. Each event highlighted how community governed Health Centres lead the way in creatively and diligently working towards advancing health equity locally as well as province wide.
The week featured a variety of client and community centred activities. Health promotion and harm reduction activities were varied and far reaching.  They ranged from  the Screen for Life Mobile Cancer Screening Coach to Overdose Prevention and Response Training which incorporated Naloxone kit distribution, to public education initiatives such as a screening of the Matices "Temporary" Migration in Canada  documentary highlighting migrant agricultural worker's experiences in Niagara.
The week culminated in a Community Celebration. Participants throughout the week were invited back to reflect on the activities, share a delicious meal (graciously prepared by the cooking class) and honour the recipients of the Health Equity Awards. These Awards, an initiative of the Association of Ontario Health Centres (AOHC), celebrated those staff members, volunteers, and community members who go above and beyond to put health equity at the centre of their work each and every day.  Recipients of this prestigious award include:
Quest's Volunteer Dental Advisory Committee
Quest's Volunteer Chiropractic Program
Cy Elborne, President of Henry Schien Canada
Carys Massarella, Physician for Transgender care
Jaime Fay, Community Outreach Worker
Also a special thanks to our MPP Jim Bradley who joined our Celebration as well as Health Equity Hero Ambassador, Mayor Walter Sendzik, who helped us honour our recipients by distributing the Awards.
With eight events and nearly 200 participants, Quest's Community Health Week was a huge success. As usual, it was a wonderful opportunity to connect with new faces and reconnect with familiar faces. Thanks to each of you who came out to celebrate with us.