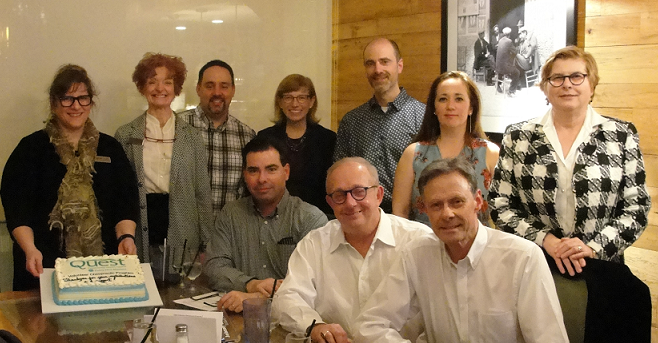 On Tuesday April 11th Quest CHC held an appreciation dinner for the volunteer Chiropractors who graciously offer their time and expertise to provide free chiropractic services to our clients over the past three years.
Our 2016-17 Volunteer Chiropractic Program (VCP) year was a great success, and in no small part due to their generous contribution. Thank you to all our volunteers for all that they do. Without them the clients of Quest CHC would not have access to this extraordinarily valuable service.
We would also like to thank our Chiropractic planning team who provide vital input into shaping the way Chiropractic services are delivered at Quest CHC.  The planning team is also actively involved  in the development and implementation of  a program evaluation, in partnership with the Ontario Chiropractic Association, measuring client outcomes utilizing both Qualitative and Quantitative approaches
Their teamwork has made our dream of providing excellent care to Quest Priority populations come true.  We look forward to our continued partnership!