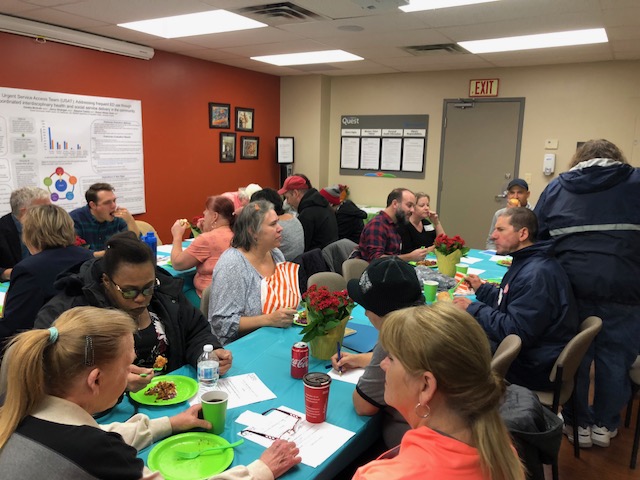 From October 22nd to 26th, Quest CHC celebrated their annual Community Health and Wellbeing Week with the theme of Building Healthier Communities Together .  The week highlighted how CHCs work closely with their clients, communities, other community-based organizations, local leaders and decision-makers to understand local issues, build local connections and develop local solutions. This ensures unmet or under-served needs are addressed, creating more sustainable, resilient communities.
This was achieved by hosting a variety of activities throughout the week. Events ranged from client-centred health promotion activities such as the Screen for Life Mobile Cancer Screening Coach, Getting a Better Night's Sleep Workshop and Lifelong Impact of Trauma Workshop to public education initiatives such Voting for the Health of It drop in-session which highlighted the importance of voting and shared necessary information on the process of voting, to encourage civic engagement. All events were well attended, well enjoyed and continued to grow our Quest community.
The week culminated in the Community Celebration, where are participants from events from throughout the week were invited back to reflect on the week, share a delicious meal (graciously prepared by the cooking class) and honour the recipients of the Healthy Community Builder Awards. These awards, an initiative of the Alliance of Healthier Communities (formerly the Association of Ontario Health Centres), were meant to celebrate those local groups, organizations and individuals who continue to  who continue to go above and beyond to build a healthier community both within and outside of our centre.  Recipients of this prestigious award includes:
Queenston Roundtable
Niagara Connects
Chief Bryan MacCulloch
With nine events and over 200 participants, the week was a huge success. As usual, it was a wonderful opportunity to connect with new faces and reconnect with familiar faces. Thank to you all of those who came out to celebrate with us.