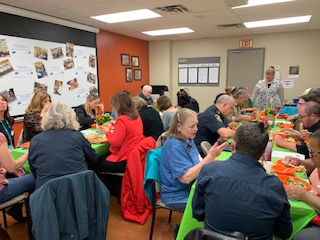 From October 21st to 27th, Quest CHC celebrated their annual Community Health and Wellbeing Week with the theme of Connected Teams, Connected People, Connected Communities.  The week aimed to highlight the need to continue work collaboratively  to strengthen connections within communities to achieve a more integrated health system and build more connected, vibrant communities. The Week also focused on the many ways Community Health Centres  have fostered and continue to develop these connections through working closely with their clients, communities, other community-based organizations and teams, local leaders and decision-makers to develop local solutions to the issues their clients and communities face.
This was achieved by hosting a variety of activities throughout the week. Events ranged from client-centred health promotion activities such as the Screen for Life Mobile Cancer Screening Coach, Pathways to Education Workshop and Mediterranean Eating on a Budget  Workshop and Cooking Class to public education initiatives such Voting for the Health of It drop in-session which highlighted the importance of voting and shared necessary information on the process of voting, to encourage civic engagement in the federal election. Although the official week has passed, we have one last event to celebrate, our annual LGBTQ+ Youth Halloween Dance, which we will be holding this week. With over 100 clients and 10 community partner agencies partaking in festivities through the week so far (we anticipate doubling these numbers with our final event this week), the week was a huge success.
The week achieved the goal of continuing to build and strengthen connections within our community. This was made evident not only by the close relationships shared between clients, volunteers, staff, and community partners, but also their shared  commitment to working together to build a healthier, more resilient and more collaborative community. It is great to see progress on this commitment and to witness the Quest community continue to grow.
The week culminated in the Community Celebration, where are participants from events from throughout the week were invited back to reflect on the week, share a delicious meal (graciously prepared by the cooking class) and honour the recipients of the Community Connector Awards. These awards, an initiative of the Alliance of Healthier Communities, were meant to celebrate those who embody the theme for the year – Connected Teams, Connected People, Connected Communities. The recipients are those who continue to go above and beyond to foster relationships and build partnerships in their organizations, in their communities and in the health system.  Recipients of this prestigious award includes:
Dr. Rahat Hossain- HEART Project, Principle Investigator
Karen Lutz- Graul –  Niagara Region  EMS, Commander Quality Assurance & Performance Standards
Gloria Morris – Niagara Region Public Health, Manager Dental Health
Urgent Service Access Team Project Management Team

Tara McKendrick – Canadian Mental Health Association (CMHA), Executive Director
Janice Gardner-Spiece – Community Addiction Services of Niagara (CASON), Executive Director
Barb Pizzingrilli –Niagara Health, Director Patient Care Mental Health & Addictions
It is hard to believe Community Health and Wellbeing Week 2019 has come and gone. As usual, it was a wonderful opportunity to connect with new faces, reconnect with familiar faces and strengthen our community. Thank to you all of those who came out to celebrate with us.