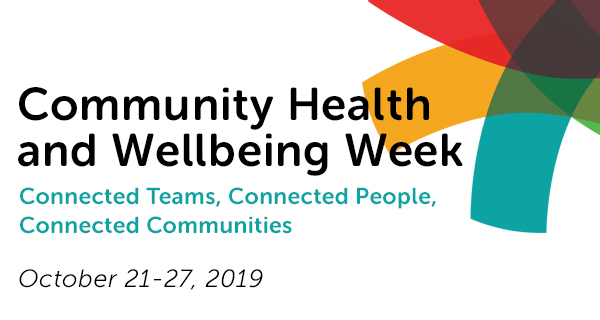 Between October 21st and October 27th, Quest CHC, along with more than 100 health centres across Ontario, will take part in an annual celebration, Community Health and Wellbeing Week.
With this year's theme of Connected Teams, Connected People, Connected Communities, the week will highlight the need to continue work collaboratively  to strengthen connections within communities to achieve a more integrated health system and build more connected, vibrant communities. The Week will focus on the many ways Community Health Centres  have fostered and continue to develop these connections through working closely with their clients, communities, other community-based organizations and teams, local leaders and decision-makers to develop local solutions to the issues their clients and communities face.
Quest CHC will celebrate the week by hosting a variety of activities. These range from client-centred health promotion activities such as the Pathways to Education Workshop which aims to education participants on various adult education options in the community and Mediterranean Eating on a Budget Workshop and Cooking Class; to public education initiatives such as our Voting for the Health of It event which will promote civic engagement in the federal election.
Please see the full list of activities below, feel free to contact to Erin Walters (905-688-2558 ext. 297) for more information or to register for any of these events. All events take place at Quest CHC, unless otherwise specified. All events are free and participants will be provided with snacks and prizes.
Voting for the Health of It (Monday October 21st@ 10am -1 2pm and 1- 3pm)
Pathways to Education Workshop (Monday October 21st  @ 1:30 – 3pm)
Nutrition Workshop: Mediterranean Eating on a Budget (Tuesday October 22nd from @ 1:30 – 3pm)
Cooking Class: Mediterranean Eating on a Budget  (Wednesday October 23rd  @ 1:30 -4:30pm at Silver Spire United Church)
Volunteer Workshop: ABC's of LGBTQ+ (Wednesday October 23rd @ 5:30 -7:30pm)
Screen for Life Cancer Coach (Thursday October 24th from @ 9am – 3pm with free breakfast and manicures from 9-11:30am)
Community Celebration (Friday October 25th 11am – 1:30pm)
LGBTQ+ Youth Halloween Dance (Wednesday October 30th @ 7 – 10 am at Governor Simcoe S.S.)
We hope you can join us!